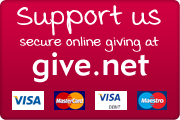 News!!!
"Rejoice in the Lord always. I will say it again: Rejoice! Let your gentleness be evident to all. The Lord is near. Do not be anxious about anything, but in every situation, by prayer and petition, with thanksgiving, present your requests to God. And the peace of God,which transcends all understanding, will guard your hearts and your minds in Christ Jesus.."
(Philippians 4:4-7 NIV)
As Christmas draws near, let us pray that each one of us will receive not just material presents but also the grace of inner peace.
-----------------------------------------------------------------------------
This year is the 60th Anniversary of the rededication of our church after it was rebuilt in 1957. As an anniversary project, we are raising fund to replace our wooden doors into glass doors. This will make our church more welcoming to our visitors and congretation. We need your support to make this possible. Please visit the 60th Anniversary Appeal webpage to know how you can support us.
A team from the National Association of Decorative and Fine Arts Societies (NADFAS, now known as The Arts Society) came together to record the interior and artefacts of our beautiful church. The volumes of their findings are to be presented to the church but the group will also talk about some of the treasures and the stories which came to light - and the mysteries still to be solved. Come and join us in our "Treasure Hunt in St Lawrence Jewry" event on Thursday 18th January at 6pm, for what promises to be a fascinating evening to show you St Lawrence Jewry through a magnifying glass, in amazing close-up.
Tickets £10 includes a glass of wine and light refreshments. For more info please contact Katrina - 0207 600 9478 - katrina@stlawrencejewry.org.uk.
------------------------------------------------------------------------------
St Lawrence Jewry is the official church of the Lord Mayor of London and the City of London Corporation and stands in the Yard of the Guildhall.
It was re-built by Sir Christopher Wren after the Great Fire of 1666, but there has been a church on the site for around 900 years.
After extensive damage in the Second World War, it was again re-built.
We are here to show the love of Christ to those who live and work in the City of London, and we seek to be welcoming to the many people who pass through our doors.
The church is open from 9am to 5pm, Monday to Friday.
Come and visit us soon. You will find a fascinating building to look round, and somewhere to stop, be still, think and pray; a place of tranquillity in an area of world commerce and business. We have a number of resources to aid you in this. For more information read about the Royal Marines Chapel.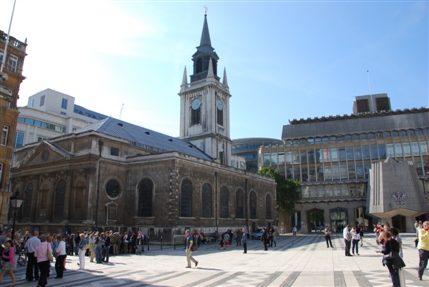 Our main services of the week are Holy Communion on Wednesday mornings from 8:30 - 9:15am and Friday lunchtimes from 1:15 - 2pm. Everyone is welcome to attend these services, which take place in the Commonwealth Chapel.
The Spital Service is on Thursday 8th March at 12 noon. Everyone is welcome.
listen to 'City People: Canon David Parrott' on Audioboo
Contact:
The Vicar, Canon David Parrott, can be contacted at the Church (address below), by telephone 02076009478 or by email.
St Lawrence Jewry
Guildhall Yard
London
EC2V 5AA
Charity No. 1157187
You can find us on this map.
We are part of the Diocese of London in the Church of England.