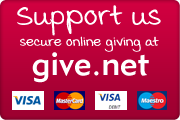 News!!!
The Latest live stream service is now available here. We broadcast live at 1.15pm each Friday and you can also access it here, on You Tube and Twitter. We are trying to get better at this!
We will not have Holy Communion Service on Wednesday 28th October 2020. The Holy Communion Service is on Friday 30th October.
Stay in touch, and stay safe.
Coronavirus (Covid-19)
The ground is shifting beneath us all, but we stand firm on the rock which is Jesus Christ. In a climate of fear and uncertainty I urge us all as faithful Christians to have our eyes fixed on the greater things of life and to trust that we have assurance and hope in our Lord Jesus. I also encourage all members to be aware of their neighbours and to assist with shopping and practical help where needed, within the constraints of the advice we are being given.
Please note that all future concerts have been cancelled until further notice. At this stage we will plan to have no concerts for the rest of the year, which is beyond the predicted peak for Covid 19 virus. We are sorry to have to announce this, but people will, I am sure, understand. If this changes updates will appear here.
Our weekly services of Holy Communion restarted on Wednesday 2nd September 2020 with some restriction.
The church is open for personal prayers only on Monday to Friday from 2-4pm. To keep our church Covid-safe we set some guidelines for those visiting us:
Access to the church is from the south door on Gresham Street for the time being, due to a problem with the pavement near the west door.
For contact tracing purposes, you are requested to leave your contact details on the provided sheet by the entrance. This will be kept securely for 28 days and then destroyed.
As you enter the church, please use the hand sanitiser provided near the entrance door.
Using of mask in the church is mandatory. We provide limited supply of masks if you didn't bring one with you.
Please use only the end of each pews if you want to sit or pray. Pews are all marked up to where you can sit. Please be aware of other people around you and keep at least 2m apart.
Please refrain from touching any of the church fabric.
There will be leaflets available for people to take with them. Once you touch a leaflet, please do take it out with you.
No bibles will be available to the public at the moment. Please bring your own if you can. If you need one, then please contact us by email and we'll provide you one to keep as your own.
Our coffee and toilet facilities will remain close to the public.
Our two chapels, Royal Marine Chapel and Commonwealth Chapel, will also remain close to the public, except during Holy Communion Services for the latter.
The church office is open by appointment basis between 11.30am to 5pm. Please email Katrina if you want to make an appointment.
We are also making annoucements in our Twitter, Facebook and YouTube accounts. We also live streaming our Friday Holy Communion Service via our Facebook Live. Please join us there if you can. David created a video specifically for the Livery Companies in the City of London. To view it, please visit our YouTube channel.
Please remember that our Lord and God the Father are unchanged in this situation and by the power of the Holy Spirt we will all get through this.
-----------------------------------------------------------------------------
We also seek the support of everyone to practice universal good hygiene:
Catch it – sneeze / cough into a tissue.
Bin it – bin the tissue.
Kill it – wash your hands.
Do not touch your face unless you've washed your hands.
Let us continuously pray for one another and stay calm amids this virus concern.
-----------------------------------------------------------------------------
The church is now applying for faculties to the Consistory Court of the Diocese of London for the major renovation roof project and the upgrade of telecom mast to 5G. We are required to post the Public Notice in our website. To view these notices, please click roof and 5G.
-----------------------------------------------------------------------------

-----------------------------------------------------------------------------
St Lawrence Jewry is the official church of the Lord Mayor of London and the City of London Corporation and stands in the Yard of the Guildhall.
It was re-built by Sir Christopher Wren after the Great Fire of 1666, but there has been a church on the site for around 900 years.
After extensive damage in the Second World War, it was again re-built.
We are here to show the love of Christ to those who live and work in the City of London, and we seek to be welcoming to the many people who pass through our doors.
The church is open from 2pm to 4pm, Tuesday to Friday, for personal prayers only at the moment. Watch this space if the church will resume its regular opening times of 9am-5pm Monday to Friday.
Come and visit us soon. You will find a fascinating building to look round, and somewhere to stop, be still, think and pray; a place of tranquillity in an area of world commerce and business. We have a number of resources to aid you in this. For more information read about the Royal Marines Chapel.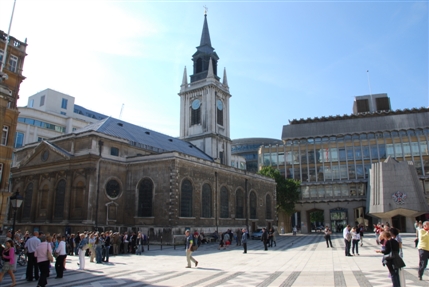 Due to the easing down of the government restricttions on public places of worship, we now resume our weekly Holy Communion Service on Wednesday mornings from 8:30 - 9:15am and Friday lunchtimes from 1:15 - 2pm, which take place in the Commonwealth Chapel. No Holy Communion Service this coming Wednesday 28th October 2020. We also live stream our Friday service via our Facebook. We invite you to join us in these services, physically or virtually.
All other services are still suspended until further notice.
listen to 'City People: Canon David Parrott' on Audioboo
Contact:
The Vicar, Canon David Parrott, can be contacted at the Church (address below), by telephone 02076009478 or by email.
St Lawrence Jewry
Guildhall Yard
London
EC2V 5AA
Charity No. 1157187
You can find us on this map.
We are part of the Diocese of London in the Church of England.
Safeguarding
St Lawrence Jewry is committed to the safety of young people and vulnerable adults. You can view our Safeguarding policy here.