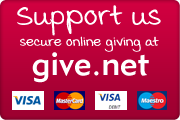 News!!!
A weekly short sermon from the Vicar is now available here. Stay in touch, and stay safe.
Coronavirus (Covid-19)
The ground is shifting beneath us all, but we stand firm on the rock which is Jesus Christ. In a climate of fear and uncertainty I urge us all as faithful Christians to have our eyes fixed on the greater things of life and to trust that we have assurance and hope in our Lord Jesus. I also encourage all members to be aware of their neighbours and to assist with shopping and practical help where needed, within the constraints of the advice we are being given.
Please note that all future concerts have been cancelled until further notice. At this stage we will plan to have no concerts until the beginning of September, which is beyond the predicted peak for Covid 19 virus. We are sorry to have to announce this, but people will, I am sure, understand. If this changes updates will appear here.
Our weekly services of Holy Communion are also cancelled in response to advice received from the Archbishop of Canterbury. There is information on the Church of England web site about this (www.churchofengland.org )
The church will open starting Monday 6th July from 2-5pm for personal prayers only. The church office will be open on a per-appointment basis only. You can book your appointment with us via email or phone 02076009478. You can also reach us through those details if you need pastoral advice or prayer request. We are also making annoucements, including David's weekly sermon, in our Twitter, Facebook and YouTube accounts. Please join us there if you can. You can also see David's weekly video sermon here. David created a video specifically for the Livery Companies in the City of London. To view it, please visit our YouTube channel.
Please watch the website for any further updates.
Please remember that our Lord and God the Father are unchanged in this situation and by the power of the Holy Spirt we will all get through this.
-----------------------------------------------------------------------------
We also seek the support of everyone to practice universal good hygiene:
Catch it – sneeze / cough into a tissue.
Bin it – bin the tissue.
Kill it – wash your hands.
Do not touch your face unless you've washed your hands.
Let us continuously pray for one another and stay calm amids this virus concern.
-----------------------------------------------------------------------------
The church is now applying for faculties to the Consistory Court of the Diocese of London for the major renovation roof project and the upgrade of telecom mast to 5G. We are required to post the Public Notice in our website. To view these notices, please click roof and 5G.
-----------------------------------------------------------------------------

-----------------------------------------------------------------------------
St Lawrence Jewry is the official church of the Lord Mayor of London and the City of London Corporation and stands in the Yard of the Guildhall.
It was re-built by Sir Christopher Wren after the Great Fire of 1666, but there has been a church on the site for around 900 years.
After extensive damage in the Second World War, it was again re-built.
We are here to show the love of Christ to those who live and work in the City of London, and we seek to be welcoming to the many people who pass through our doors.
The church is open from 9am to 5pm, Monday to Friday. In August, the church will still be open each weekday but less hours than usual according to staff availability.
Come and visit us soon. You will find a fascinating building to look round, and somewhere to stop, be still, think and pray; a place of tranquillity in an area of world commerce and business. We have a number of resources to aid you in this. For more information read about the Royal Marines Chapel.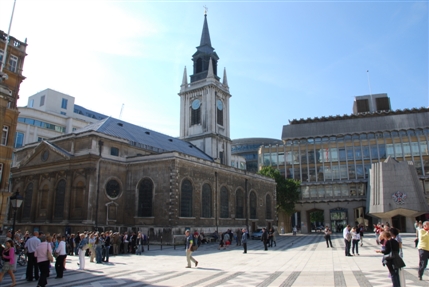 Our weekly Holy Communion Service on Wednesday mornings from 8:30 - 9:15am and Friday lunchtimes from 1:15 - 2pm, which take place in the Commonwealth Chapel, are currently suspended until further notice. Watch this space for further announcement.
All other services are also suspended, possibly up to September, until further notice.
listen to 'City People: Canon David Parrott' on Audioboo
Contact:
The Vicar, Canon David Parrott, can be contacted at the Church (address below), by telephone 02076009478 or by email.
St Lawrence Jewry
Guildhall Yard
London
EC2V 5AA
Charity No. 1157187
You can find us on this map.
We are part of the Diocese of London in the Church of England.
Safeguarding
St Lawrence Jewry is committed to the safety of young people and vulnerable adults. You can view our Safeguarding policy here.